In today's era of environmental consciousness and energy independence, harnessing the sun's power has become more accessible than ever.
Aferiy, a trusted brand in solar technology, introduces the AF-S100 100W portable solar panel—an innovation designed to redefine how we generate and utilize clean, renewable energy.
In this comprehensive article, we will delve into the specifications and features of the AF-S100, demonstrating how it empowers users to embrace sustainable living while enjoying the benefits of portable, solar-generated power.
Specifications
The Aferiy AF-S100 100W portable solar panel transcends the boundaries of conventional energy sources, offering a sustainable and practical solution for power generation on the go.
With its impressive specifications, durability, and ease of use, this solar panel empowers individuals to embrace clean and renewable energy while enjoying the freedom of energy independence.
Whether you're exploring the great outdoors, preparing for emergencies, or simply seeking to reduce your carbon footprint, the AF-S100 is your gateway to a greener, more sustainable future.
Rated Power: 100W
The AF-S100 boasts a formidable 100W rating, ensuring ample power generation for various applications, from outdoor adventures to emergency backup at home.
Cell Type: Monocrystalline Silicon
Monocrystalline silicon cells are renowned for their efficiency and durability, making them an ideal choice for solar panels. AFERIY's use of monocrystalline cells ensures optimal energy conversion.
Cell Efficiency: 23%
With an impressive 23% cell efficiency, the AF-S100 maximizes sunlight absorption, guaranteeing consistent and reliable energy production.
Lamination: MWT (Metal Wrap Through)
MWT technology enhances the structural integrity of the solar panel while optimizing electrical performance. It reinforces the panel's durability, making it suitable for various environmental conditions.
Waterproof Rating: IP65
The IP65 waterproof rating ensures the AF-S100 can withstand rain, dust, and other environmental challenges, making it a reliable choice for outdoor use.
Voltage at Max Power (Vmp): 19.8V
The Vmp rating represents the voltage at which the panel operates most efficiently, ensuring optimal power output.
Current at Max Power (Imp): 5.05A
The Imp rating indicates the current output when the panel operates at its maximum power, allowing for efficient charging of connected devices and power stations.
Dimensions (Unfolded): 5451320mm/21.451.9 Inch
When unfolded, the AF-S100 offers a generous surface area for sunlight absorption, optimizing energy generation.
Dimensions (Folded): 545370mm/21.414.6 Inch
Its compact folded dimensions make it highly portable and easy to transport, fitting seamlessly into your outdoor gear.
Net Weight: 2.5KG/5.5LB
At just 2.5 kilograms, the AF-S100 is exceptionally lightweight, allowing for effortless portability.
Operating Temperature: 14-140°F (-10-60℃)
The solar panel's wide operating temperature range ensures it performs reliably in diverse climates and weather conditions.
Best Working Temperature: 77°F (25℃)
While the panel is operational within a wide temperature range, it performs optimally at 77°F, guaranteeing efficient power generation.
Warranty: 3 Years
AFERIY stands behind the quality and durability of the AF-S100 with a generous 3-year warranty, offering users peace of mind and long-term reliability.
In The Box: 100 Watts Solar Panel, User Manual, Anderson MC4 Connectors
The package includes everything you need to get started, ensuring a hassle-free setup and operation.
Advantages of the AF-S100 100W Portable Solar Panel
High Efficiency Power Generation:
One of the standout advantages of the AF-S100 is its impressive 23% cell efficiency.
This efficiency level ensures that you can harness more power from the sun, allowing you to charge your devices and power stations quickly and reliably.
Whether you're in a sunny desert or a cloudy forest, the AF-S100 consistently delivers.
Portability and Ease of Transport:
Weighing a mere 2.5 kilograms and featuring a compact folding design, the AF-S100 is exceptionally portable.
Its integrated handle and included storage bag make it easy to carry, ensuring you can take it with you wherever you go.
It's the perfect companion for outdoor enthusiasts and adventurers seeking to minimize their environmental impact.
Durability for All Conditions:
The AF-S100 is built to withstand the harshest environmental conditions.
With an IP65 waterproof rating and a robust construction that includes MWT technology, this solar panel can endure rain, dust, and even light impacts. It's a reliable source of power for off-grid adventures, ensuring you stay connected even when Mother Nature is less than accommodating.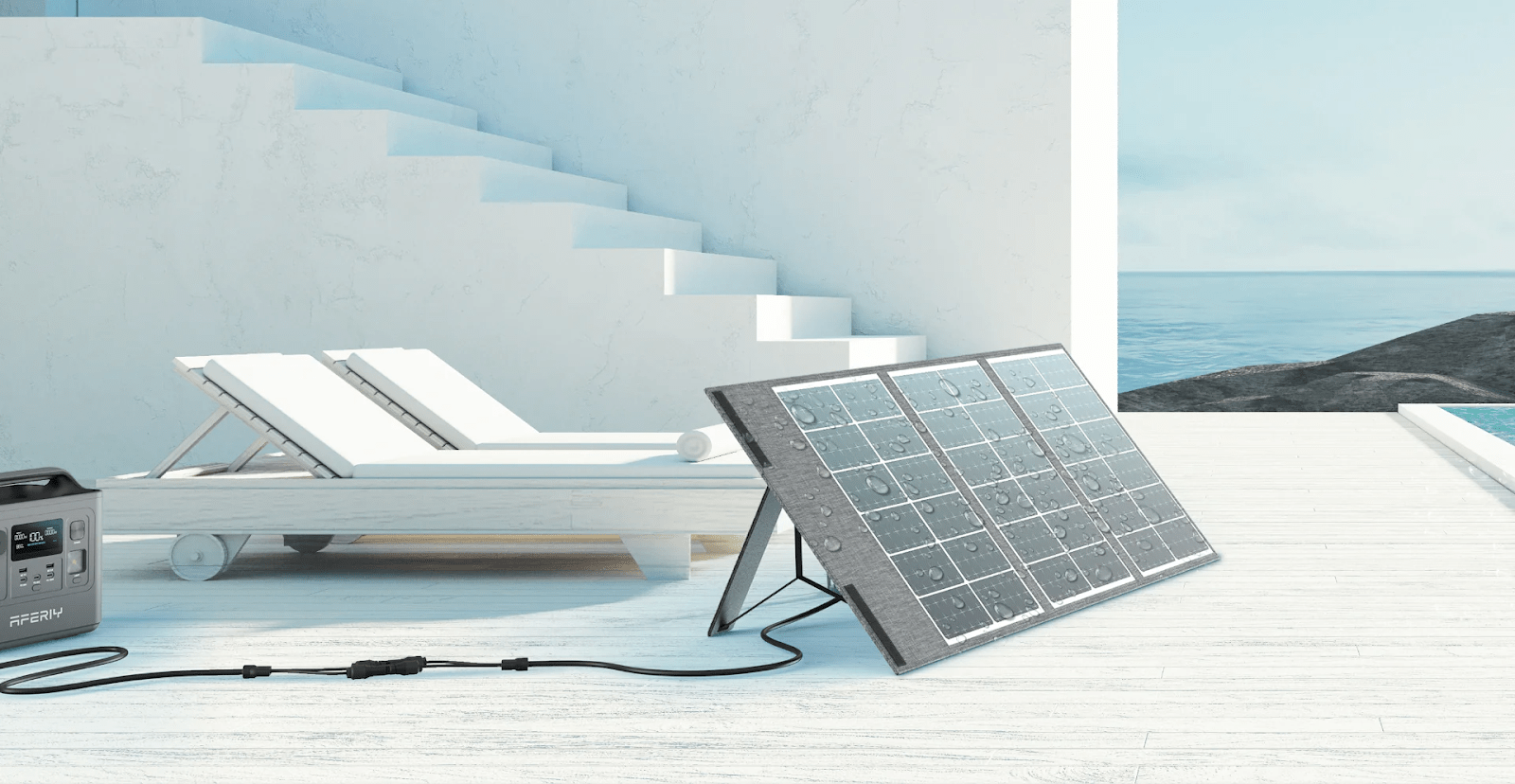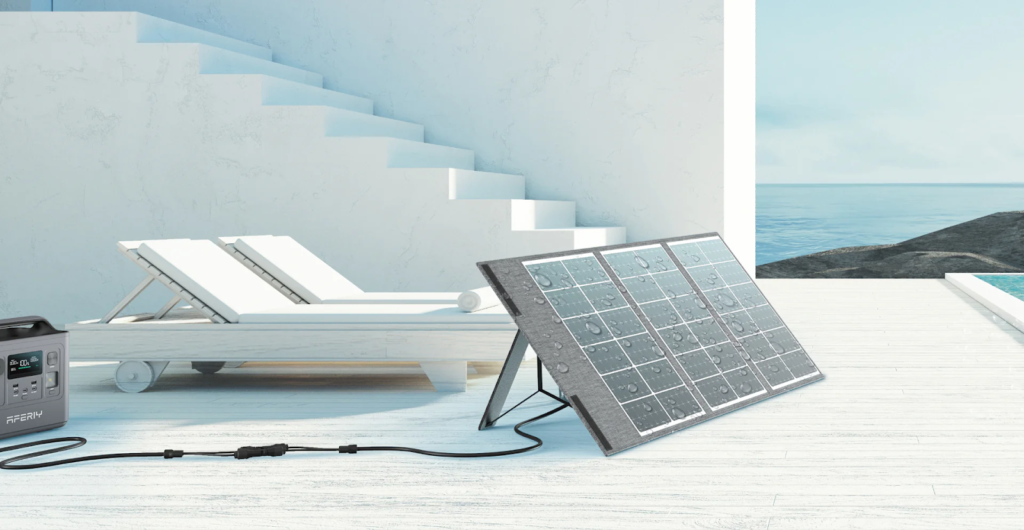 Versatility in Charging Options:
This portable solar panel offers a wide range of output interfaces, including USB A (with QC3.0), USB C, DC5521, and MC4-Anderson connectors.
With the ability to charge up to five devices simultaneously, you can power not only your smartphones and tablets but also portable power stations, electric vehicles, and other gadgets.
Its versatility makes it an excellent addition to any outdoor adventure or emergency preparedness kit.
User-Friendly Setup:
Setting up the AF-S100 is a breeze, thanks to its adjustable kickstand. You can easily optimize the angle for maximum sunlight absorption, significantly boosting the charging speed. Whether you're a seasoned solar enthusiast or a beginner, the AF-S100's straightforward setup ensures you can start generating power without hassle.
Clean, Renewable Energy:
By using the AF-S100, you're making a positive environmental impact.
Solar energy is entirely clean and renewable, producing no harmful emissions. It's a small but significant step toward reducing your carbon footprint and contributing to a sustainable future.
Economic Savings:
Over time, the AF-S100 can lead to substantial economic savings. You'll reduce your reliance on grid electricity, resulting in lower energy bills.
Additionally, government incentives and tax credits for solar panel installations can further enhance your savings, making this a wise long-term investment.
Educational Value:
The AF-S100 offers an excellent opportunity for hands-on learning about solar energy.
It can serve as an educational tool for individuals, families, and educators interested in teaching about sustainable energy sources, environmental stewardship, and the importance of renewable technologies in our daily lives.
Warranty and Support:
AFERIY's commitment to quality is reflected in the included 3-year warranty and lifetime technical support.
This peace of mind ensures that you can rely on your AF-S100 for years to come, knowing that you have the backing of a reputable brand.
Conclusion
The aferiy AF-S100 100W portable solar panel offers a multitude of advantages that cater to both environmental consciousness and practicality.
Its high efficiency, portability, durability, versatility, user-friendly setup, and potential economic savings make it an indispensable tool for outdoor enthusiasts and eco-conscious individuals alike.
By choosing the AF-S100, you're not only gaining access to clean and renewable energy but also taking a significant step toward a more sustainable and self-reliant lifestyle. Embrace the sun's power with AFERIY, and experience the benefits of clean energy wherever your adventures take you.