Market Research Record – In a recent development, Indian traders have taken advantage of significantly discounted prices on Chinese steel, causing unease among domestic producers as they prepare for an anticipated rise in local demand. Industry officials and analysts have observed Indian buyers engaging in a flurry of import deals, driven by discounts ranging from $30 to $50 per tonne on hot-rolled and cold-rolled steel products. As the monsoon season subsides, India's industrial activity is expected to pick up over the next two months, particularly in sectors like automobiles and construction, which are the primary drivers of domestic steel demand.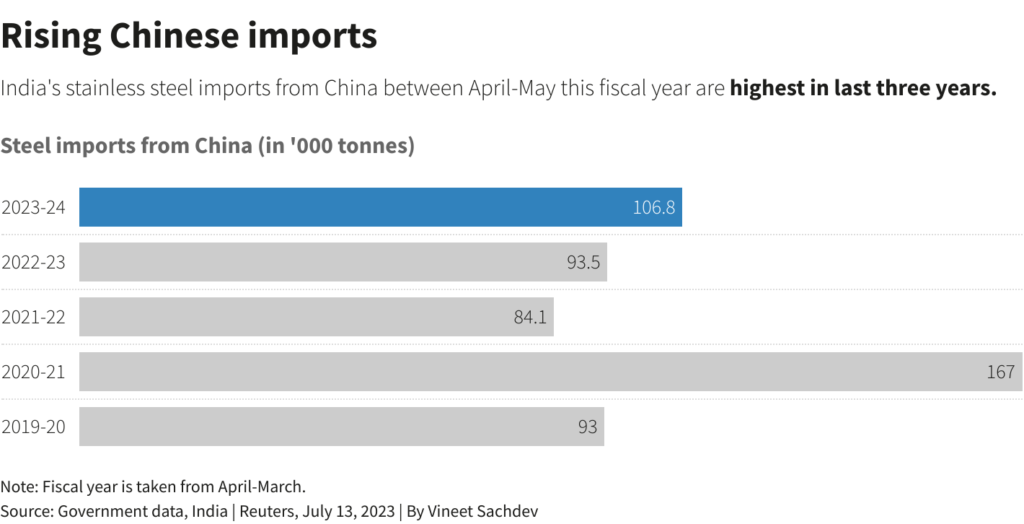 Snehdeep Bohra, a director at Fitch Ratings in India, explained, "The Chinese are offering discounts because other markets are not doing well, and we are seeing good growth in the Indian automobile and construction sectors." Traders located near port cities in the eastern state of Odisha and the western state of Gujarat find it more cost-effective to import steel from China rather than invest in local freight, according to a senior executive at a major Indian steelmaker who spoke on the condition of anonymity.
This increase in Chinese steel purchases at lower prices could further erode the market share of Indian suppliers, who have already been impacted by imports of Chinese electrical steel used in power infrastructure and electric motors, as noted by industry officials and analysts. Several senior officials at prominent Indian mills, who preferred to remain anonymous due to media restrictions, have expressed concerns about the threat posed by Chinese imports. India, the world's second-largest producer of crude steel, imported 228,000 metric tons of steel from China in the first two months of the current fiscal year, marking the highest level in six years. During April and May, Indian imports of Chinese steel products, including construction materials like plates and pipes, reached a three-year high.
Notably, around 35% of steel imports from China during this period comprised cold-rolled steel products, followed by pipes. Mundra Port, owned and operated by Gujarat Adani Port, received approximately 68% of Chinese cold-rolled steel shipments. Additionally, imports of stainless steel from China in the same period reached a three-year peak, totaling 107,000 metric tons.
However, it should be noted that India has chosen not to levy a countervailing duty on specific steel imports from China, a decision made to safeguard end-users, according to a government source cited by Reuters last week.