Law enforcement authorities in Hampton, Georgia are intensifying their efforts to locate a suspect who allegedly committed a fatal shooting, resulting in the deaths of four people. The tragic incident unfolded on Saturday morning, according to county officials.
The initial report of the shooting was received by authorities at approximately 10:45 a.m. ET, as confirmed by Melissa Robinson, spokesperson for Henry County. The incident occurred in close proximity to the Dogwood Lakes subdivision, situated approximately 29 miles south of Atlanta. This picturesque area is known for its lake-front homes and nearby Baptist church.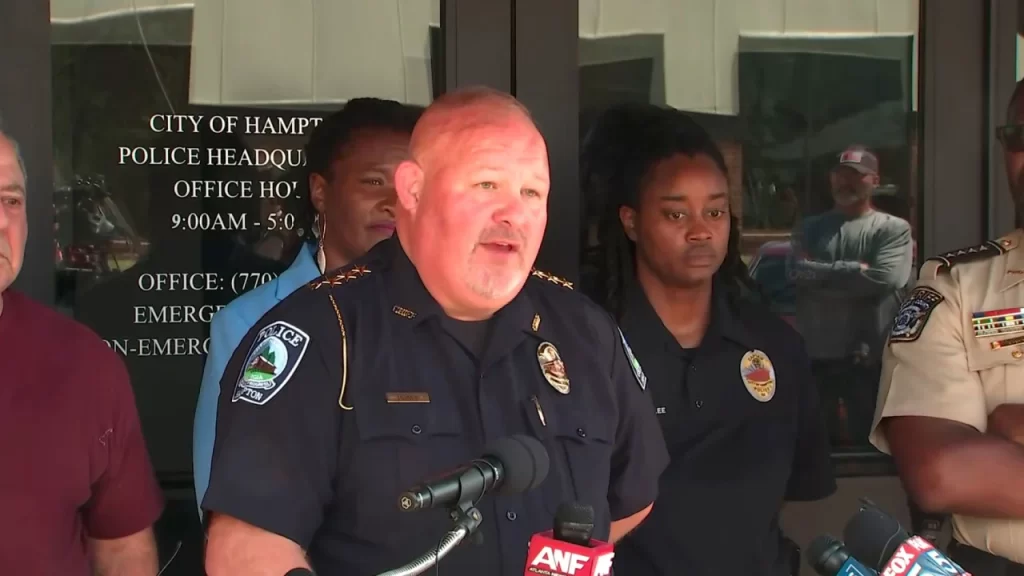 During a press conference held on Saturday afternoon, Chief James Turner of the Hampton Police Department disclosed that the victims, all adults, comprised three men and one woman. To ensure the families are properly notified, the authorities have refrained from releasing the names of the victims at this time. Chief Turner emphasized that law enforcement agencies have devoted all available resources to apprehending the suspect, stating, "all hands have been on deck."
Henry County Sheriff Reginald Scandrett announced that an arrest warrant has been issued for the suspect on murder charges. In an address directed towards the suspect, Sheriff Scandrett declared, "We will hunt you down in any hole you may be residing in and bring you to custody." To aid in the capture of the suspect, the sheriff's office has offered a $10,000 reward for any information leading to the arrest. Sheriff Scandrett further emphasized the dangerous nature of the suspect, who is known to be armed.
Collaborating with the Georgia Bureau of Investigation and various police departments across the Atlanta metro area, the sheriff's office is actively pursuing leads to track down the suspect, as confirmed by Sheriff Scandrett.
Chief Turner noted that investigators are currently unable to establish a motive for the killings. He revealed that there are at least four crime scenes under active investigation, stating that the suspect is believed to be unrelated to the victims; however, this aspect is still being investigated by the authorities.
During the press conference, Mayor Ann Tarpley of Hampton expressed her condolences, stating that "today is a sad and somber occasion." She pledged that the responsible person would be held accountable and "brought to justice." Mayor Tarpley requested the community's support by offering prayers, thoughts, and respecting the privacy of the affected families. She expressed full confidence in the law enforcement agencies, trusting that they would carry out their duties diligently to bring the suspect to justice.
Authorities have advised the public to avoid the vicinity of the incident as investigations continue.